How to Earn the 'World's Best Boss' Mug
What habits can you adopt to be labeled "the best manager I ever had" by your employees? The accolade can be thrown around casually, but actually holds more weight than most think. Employees who are effectively and fairly managed by their managers are more engaged, more productive, and are generally happier. This directly relates to the company's internal culture and overall success. Here are five traits that set great managers apart from mediocre ones. Your staff will thank you.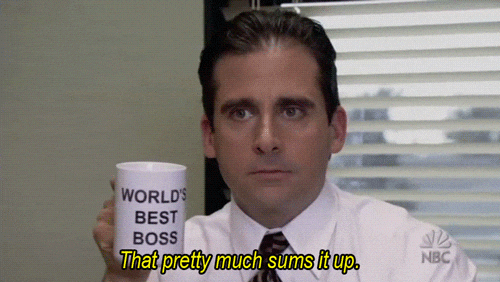 Hire smart. In order to succeed, you must surround yourself with the right people. Take the time to screen applicants thoroughly and have them meet with multiple members of the team to ensure a good fit. In order to effectively manage people, managers must take the time to get to know their employees, learn what their strengths and weaknesses are, and which management style they respond to best.

Set a positive tone. A good attitude is (the good kind of) contagious and can directly influence the morale of the entire team. A positive tone benefits both employee and employer. It leads to greater happiness, fulfillment, and productivity which can bleed into other areas of life.

Communicate. Communicate, communicate, and then communicate some more to ensure success in any relationship. Everyone wants to feel like their voice is being heard and respected. It is important to foster a work environment where every worker feels comfortable to talk openly and honestly with management. Whether it is an alternative opinion or a concern, go the extra mile to make your employees feel confident in voicing it.

Give credit. In order to feel valued by their employer, employees need to feel valued and recognized for their hard work. Without recognition, there is no incentive. Show appreciation both on the individual and team levels. Go out of your way to give employees credit on email chains and phone calls that they may not be a part of. This kind act can set a precedent across the company.

Provide continual training. When the time is taken to properly train employees, work-related tasks improve in both quality and efficiency, per Inc.com, accelerating their output and creating stronger relationships. Training should not be isolated to onboarding. There are new processes to increase productivity, and more, being published every day. Empowering employees to gain additional, long-term skills can drastically improve overall morale and productivity.
Based on personality and past experiences, some people tend to naturally be stronger at leading and inspiring others. With that being said, anybody can learn how to be an effective manager if given the right training. Contact MVG HR Solutions today for executive and manager coaching that will change your organization for the better.
MVG HR Solutions is a one-of-a-kind Executive Search & HR Consulting Powerhouse. Founded on the principles of providing stellar outsourced HR services, we are a team of HR & Talent Acquisition Consultants specializing in a talent optimization framework that touches every aspect of your people operations that ultimately yield positive business outcomes.
Contact us to learn how we can help enrich your people operations and talent acquisition strategy for your team or organization. Book a free no-obligation consultation on our website today.
E: info@mvg-hrsolutions.org
P: (310) 344-9047